Long Lines at the Market and Main REI Three-Day Grand Opening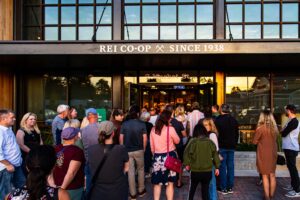 Bedford, NH – October 09, 2023 –
REI hosted a successful public grand opening celebration for its new store at Encore Commercial, LLC's Market and Main in Bedford, NH, Friday October 6, through Sunday October 8. REI, the nation's premier outdoor retailer, opened its doors to long lines, high enthusiasm, and media buzz.
Opening weekend festivities included community-building social events, live music from local talent, non-profit partners, and giveaways. Close to 79,000 REI co-op members live in the Bedford and Manchester area. With the nearest REI over 43 miles away, the anchor store is expected to generate steady foot traffic to Market and Main.
As we look ahead, we are excited for the future of Market and Main with the addition of REI. This new store represents a significant step forward, and we look forward to the positive impact REI will bring to the Bedford community.
For more information about REI's Bedford location, please visit https://www.rei.com/stores/bedford.
About Encore Commercial, LLC
Encore Commercial, LLC, a division of Encore Enterprises, Inc., focuses on the acquisition, ownership, redevelopment and asset management of retail shopping centers, single-tenant retailers and class "A" commercial office buildings across the United States. For more information, visit www.encore.bz.
About REI
REI is a national outdoor retail co-op dedicated to inspiring, educating, and outfitting its members and the community for a lifetime of outdoor adventure and stewardship. Founded in 1938, REI is renowned for offering top-quality gear, expertise, and experiences to help people of all skill levels enjoy and explore the outdoors. REI has 168 stores in 39 states and the District of Columbia, as well as an e-commerce site, REI.com, and a dedicated team of experts at its customer call center and in its travel business, REI Adventures.