REI holds three-day Grand Opening event at Market and Main retail development in Bedford, New Hampshire.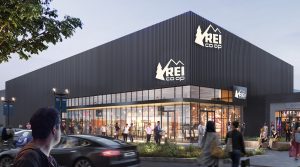 Bedford, NH – October 02, 2023 – REI, the nation's premier outdoor retailer, announces the public Grand Opening of its new store at Encore Commercial, LLC's Market and Main in Bedford, NH. REI will be hosting a grand opening celebration that will take place from Friday, October 6, to Sunday, October 8, from 10:00 AM to 5:00 PM each day.
This three-day weekend event is open to the public, and guests can look forward to multiple giveaways, complimentary coffee courtesy of Flight Coffee Co., and more. Outdoor brands such as Adidas, Hydro Flask, and Brooks Running will join the grand opening celebration.
Centrally located in the New England area and accessible from Interstate 293 and State Road 101, Market and Main is a gateway for visitors headed to the Lakes Region and the White Mountains. The convenient stop offers family-friendly shopping, dining, luxury accommodations, and pedestrian-friendly entertainment and recreation spaces. The new REI store at Market and Main will be a place for outdoor enthusiasts, offering a wide selection of gear, equipment, and expert advice to help customers make the most of their outdoor adventures.
REI would also like to announce they have two part-time job openings needing filled.
For more information about REI's grand opening celebration and available jobs at the Bedford location, please visit https://www.rei.com/stores/bedford.

About REI
REI is a national outdoor retail co-op dedicated to inspiring, educating, and outfitting its members and the community for a lifetime of outdoor adventure and stewardship. Founded in 1938, REI is renowned for offering top-quality gear, expertise, and experiences to help people of all skill levels enjoy and explore the outdoors. REI has 168 stores in 39 states and the District of Columbia, as well as an e-commerce site, REI.com, and a dedicated team of experts at its customer call center and in its travel business, REI Adventures.
About Encore Commercial, LLC
Encore Commercial, LLC, a division of Encore Enterprises, Inc., focuses on the acquisition, ownership, redevelopment and asset management of retail shopping centers, single-tenant retailers and class "A" commercial office buildings across the United States. For more information, visit www.encore.bz.